Director: Neeraj Ghaywan
Screenplay and Lyrics: Varun Grover
Acting: Richa Chadda (Devi),
Vicky Kaushal (Deepak),
Shweta Tiwari (Shalu)
Sanjay Mishra (Vidhyadhar, Devi's father)
"Masaan", in Hindi language is the place where dead bodies are cremated. In Hinduism, after people die they are taken to a place,often the place is beside a river, bodies are burned into a cot made of woods and the ashes are poured into the river. The place is called 'Shamshan' or 'Masaan'.
in Masaan two different stories collide where death is constant. The film starts with a death and ends in one. Two people unknown to each other and different lives meet at end at Masaan.
(Will contain spoiler) Devi is a victim of social stigma when she engages into premarital sex with the boy she likes. But they are found out (by police) and the boy commits suicide. The police officer blackmails Devi and her father for money, threatening them to put all the video on youtube. Devi's father is a poor brahmin who has a shop near the Ghat (river bank). He loans and even gambles to get the money for his daughter. Devi has to leave her job and eventually her father's home.
Another separate story follows Deepak , a young boy from lower caste Dom familiy, falls in love with Shalu, an upper caste girl. His love is requited but luck probably has its own twisted way of thinking. An accident befalls and Deepak loses his beloved. How much pain one has to suffer when cremating one's beloved with their own hands?
Ridden with guilt for the boy's demise, Devi visits his parents and gets blamed and further humiliated. She comes to sit on the river bank. Coincidentally she meets Deepak and their paths collide.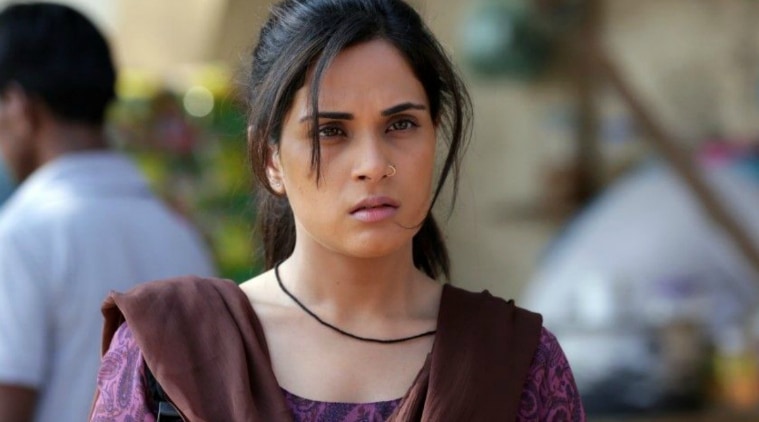 The film ends there but the aftereffect of it does not. The true situation of an unmarried woman and man is depicted in the film. The way society humiliates her, harasses her. Even the police who should protect people turns into money hungry monsters.
The police officer's character and situation is so ironic! He blackmails a girl's father and then we see that he himself has a daughter. When Devi's father and the police officer flinch when the little girl comes to them and speaks, they were not the only people. The audience too flinch along with them. And we all very quickly imagine a scenario where the girl is growing up and she chooses to do something…anything that might put her life in jeopardy…and someone blackmails her father…
The addition of the child artist has added a different flavour into the film.
Masaan has an open ending. We don't know what will happen to Devi and Deepak after they meet. Will they go back to their previous lives or something new will bloom? There is no answer.
I can personally conclude that this film has almost all the features of New wave films. The artists are not very famous (however they are professional), the mise-en-scene (the props and settings) is perfect to show from what background they belong, a child's gaze, an open ending etc.
I would like to talk about the music too. Masaan has no typical Bollywood dance numbers but it does have great music. The old country Indian folk music with a touch of Western rock and lyrics that speak of sorrow, hope, love and future.
The film is not considered as a hit because it did not meet the box office expectation but the film is beautiful, worth watching and totally recommended.
I will add the Spotify links for the music here for you to listen. The film is available on Netflix .
Did you like my heart-to-heart talk about one of my most favorite films? Have you watched this film before? If yes then what did you feel after watching this? Feel free to state in comments. I would love to know.